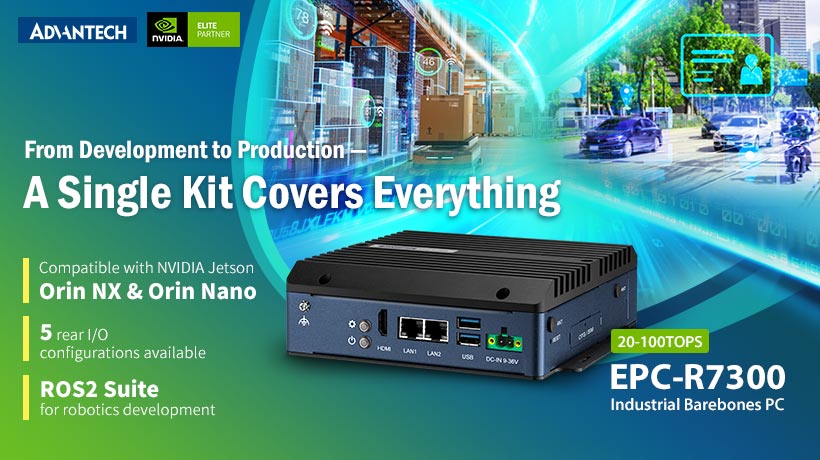 Taipei, Taiwan, January 2023
— Advantech, a leading industrial embedded AI solution provider, is proud to announce the release of the EPC-R7300 as an industrial barebones PC for NVIDIA® Jetson Orin™ NX and Orin Nano system on modules. Leveraging powerful NVIDIA Jetson Orin modules, the EPC-R7300 can deliver 20–100 TOPS with unparalleled optimized low power consumption. For easy AI deployment, the EPC-R7300 design features an ultra-compact form factor (152 × 173 × 50 mm) with diverse rear I/O configuration options, delivering excellent flexibility and computing performance for next-generation robotics and AI computer vision applications.
A Highly Reliable Single Kit for NVIDIA Jetson Orin NX and Orin Nano
Advantech's EPC-R7300 industrial-grade barebones PC is equipped with a production carrier board and mainstream I/O functions including RS-485, CAN bus, and multiple Ethernet ports — fully compatible with NVIDIA Jetson Orin NX and Orin Nano modules — satisfying various computing needs of developer. The EPC-R7300 will be supported by NVIDIA JetPack™ 5.1, making it easy to migrate from the NVIDIA development kit to our barebones PC or between different Jetson Orin modules. It also helps AI developers automatically actuate I/Os without further driver installation or configuration. Furthermore, Advantech's EPC-R7300 can tolerate a wide range of operating temperatures and power inputs, and it has a high vibration tolerance (-40~85ºC/-40~185ºF; 9~36VDC; 3.0Grms). This in turn helps users produce field-side prototypes while significantly reducing the development time and resources required for system integration, verification, and transformation into a ready-to-use edge AI system.
Diverse Rear I/O Configurations Accommodate a Myriad of Application Requirements
Edge AI applications — including image inferencing — require premium quality camera inputs. Accordingly, the EPC-R7300 provides 4 x 2-lane MIPI-CSI2 camera internal interfaces for intelligent vision-based systems. It also features 1 x HDMI 2.0 port for 4K resolution displays, 2 x GbE LAN for connectivity, 2 x USB 3.2 Gen 1 ports, and 2 x M.2 slots for wireless modules (1 x 2230 E-Key for WLAN, and 1 x 3042/52 B-Key for WWAN). Designed to fulfill different application requirements in one kit, the EPC-R7300 provides up to 5 rear I/O configurations, including serial ports (RS-232, RS-485), isolated DI/Os, USB 2.0, and a 4-port GbE hub, to enable system capacity expansion. The I/O peripheral drivers are all integrated into the board support package (BSP) with JetPack 5.1, making the EPC-R7300 capable of delivering excellent functionality without additional integration work.
ROS2 Suite — Ready for Robotics Development and Integration
The Jetson-based platform is supported by the ROS2 Suite, a coordinated and proven software package built on Advantech's AIM-Linux embedded software and designed to support Robot Operating System (ROS) environments. The ROS2 Suite utilizes the SUSI API. SUSI is a suite of application interfaces that enables users to monitor and control digital I/O, I2C, and watchdog timers directly. Industry protocols and edge time-series database software are also implemented for ROS industrial applications. Furthermore, general ROS utilities such as RVIZ and MoveIt are pre-integrated to shorten application development time. The AI Accelerator SDKs from NVIDIA are consolidated into the ROS2 Suite to increase edge intelligence efficiency from graphics processing units inside the processor. With high software integration, the EPC-R7300 significantly reduces the time and resources required for robotics development.
Advantech's EPC-R7300 samples will be ready in Q1 2023. For more information about this and other EPC-R Jetson-based AI solutions, please contact the Advantech sales team, authorized distributors, or visit the EPC-R7300 product page for more details.